2012 INDUCTEES
Big Dog | NAO | PackBot | WALL-E
---

Category: Entertainment
WALL-E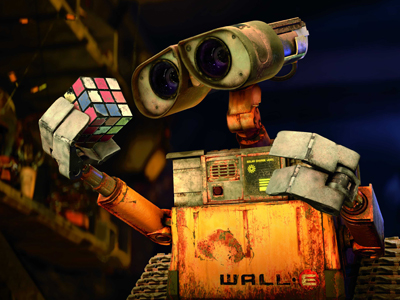 WALL-E (Waste Allocation Load Lifter — Earth Class) may be the loneliest character of any animated film — or any film, for that matter. After humans abandoned a dying, garbage-strewn Earth in 2105, this trash compacting robot toiled for 700 years cleaning up the mess, saving artifacts of human existence and eventually developing sentience.
When WALL-E discovers a live seedling — and falls in love with a robot sent back to Earth in search of signs of renewed life — he sets in motion an adventure that ultimately decides the fate of mankind. WALL-E was both the star and the namesake of a motion picture produced by Walt Disney Pictures and Pixar Animation Studios. A popular and critical success, WALL-E would gross more than $500 million in theaters worldwide, score a 96 percent approval rating from the review aggregator Rotten Tomatoes and ultimately received a passel of awards, including an Academy Award for Best Animated Feature.
The movie was directed by Andrew Stanton, who developed the story with Pete Docter and wrote the screenplay with Jim Reardon.
As with all great works of science fiction, the movie serves as a critique of society, particularly of the excesses of consumerism. The dark side of technology and of robotics is explored as well, though in the end humans and robots are shown working together in harmony.
WALL-E also finds companionship and reciprocated love. Speaking at WALL-E's induction into the Robot Hall of Fame, Moshe Mahler, a staff member of Disney Research, Pittsburgh, mused that this is WALL-E's ultimate lesson for us:
"WALL-E is a romantic. He reminds us to look beyond our given directive. Whether our design is to organize centuries of garbage, probe Earth for plant life, or clean foreign contaminants, we should all take the time to look at our fellow inhabitants, introduce ourselves and maybe find someone to hold hands with."