2012 INDUCTEES
Big Dog | NAO | PackBot | WALL-E
---

Category: Education & Consumer
NAO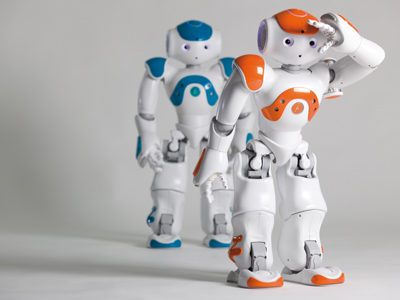 NAO stands just 23 inches high, but in the world of educational robotics, this humanoid robot casts a long shadow.
Developed by Aldebaran Robotics in 2006, the two-legged Nao (pronounced "now") in many ways has succeeded an earlier Robot Hall of Fame inductee, Sony's four-legged AIBO. Like AIBO, Nao is the total package: interactive, programmable and affordable, making it a favorite of both educators and academic researchers. According to Aldebaran, more than 3,000 of these humanoids are now being used by schools and universities in more than 70 countries.
In the international robot soccer competition known as RoboCup, an important testing ground for multi-robot systems, Nao literally replaced AIBO as the robot used in the Standard Platform League.
Technically speaking, Nao has much to offer: The robot's body boasts 25 degrees of freedom. Its sensors include cameras, microphones, a sonar rangefinder, IR emitters/receivers, an inertial board, tactile sensors and pressure sensors. It also is equipped with a voice synthesizer, LED lights, and high-fidelity speakers. NAO is powered by an Intel ATOM 1.6ghz CPU (located in the head) that runs a Linux kernel with a secondary CPU located in the chest. Battery life gives NAO 1.5 hours of autonomy between charges.
But Nao is more than the sum of its parts, as Aldebaran's Natanel Dukan explained at Nao's induction into the Robot Hall of Fame:
"We started in 2005, a group of crazy guys in Paris with a very simple idea: We wanted to create a robot to change the world. Just that. Easy, no? Seven years later, here we are. ...We are bringing robotics, every day, closer to the next level. And every day, our dream to make robots for better living is getting closer."