Robot Hall of Fame® Inducts NAO, PackBot, BigDog and WALL-E
The 2012 Robot Hall of Fame inductees were announced on Tuesday, October 23 at Carnegie Science Center. For more information, see the press release.
2012 Robot Hall of Fame® Nominees
Education & Consumer
This category represents robots that are meant for education, domestic/household use, and other personal applications. Previous inductees include: Sony's Aibo, Lego Mindstorms, and iRobot's Roomba.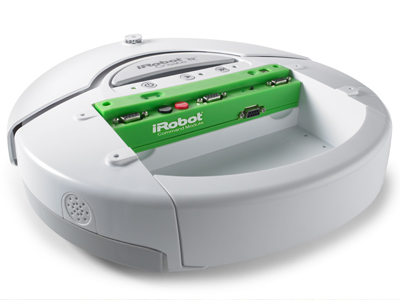 Create
Create was designed by iRobot based on the Roomba platform and was introduced in 2007. It is a robot platform for educators, students, and developers. It accepts practically all accessories designed for iRobot's domestic robots.

Photo courtesy iRobot Corporation, all rights reserved.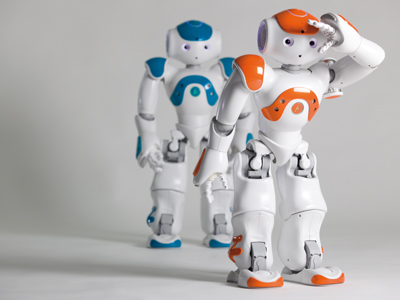 NAO
NAO is an autonomous, programmable, humanoid robot developed by Aldebaran Robotics of France in 2006. The robot has been utilized as an education device/platform, and in the Robot Soccer World Cup (Robocup) Standard Platform League.

Photo courtesy Aldebaran Robotics.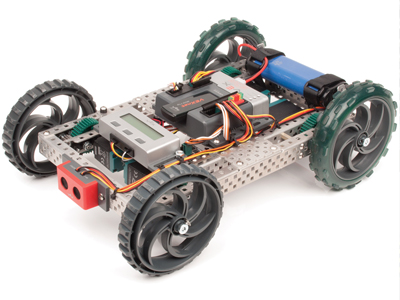 VEX Robotics Design System
The platform offers students and adults hands-on and innovative ways to explore science, technology, engineering, and math. The versatility of the platform allows it to be easily altered to suit students of different levels of ability from middle schools to university labs.

Photo courtesy Innovation First Inc.
---
Entertainment
This category represents robots that exist within the realm of Movies, Television, Literature, and other venues of the Entertainment Industry. Previous inductees include: R2-D2 and C3PO from 'Star Wars', Astroboy from the Japanese Manga series, Hal 9000 from '2001 A Space Odyssey', Robby from 'Forbidden Planet', David from 'AI', Maria from 'Metropolis', Gort from 'The Day the Earth Stood Still', Lt. Commander Data from 'Star Trek: The Next Generation', T-800 From 'Terminator', and Huey, Dewey, and Louie from 'Silent Running'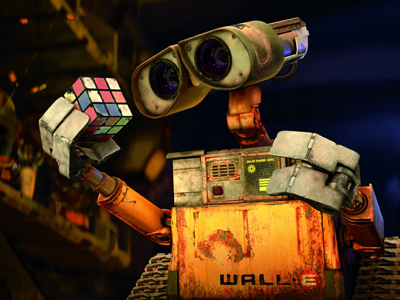 WALL-E
WALL-E (Waste Allocation Load Lifter – Earth Class) is the lovable star of the 2008 Disney/Pixar blockbuster by the same name. WALL-E inadvertently embarks on a space journey that will ultimately decide the fate of mankind.

Photo courtesy Disney/PIXAR, all rights reserved.
Rosie
She is the Jetsons household Robot from "The Jetsons" which aired from 1962-1963 and from 1985-1987. She may be outdated but the Jetsons would never trade her in. Rosie does all the household chores and some of the parenting. She is a strong disciplinarian and occasionally dispenses family advice.
Photo courtesy Hanna-Barbera Productions/Photofest NYC, ©Hanna-Barbera Productions.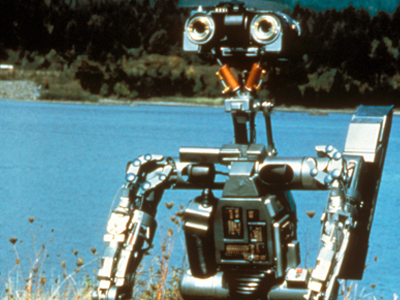 Johnny 5
He is the star of the 1986 Tri Star Pictures Comedy/Sci Fi film 'Short Circuit'. He is one of five prototypes proposed for Cold War use by the U.S. military and inadvertently becomes sentient as a result of a power surge. He begins to explore his new world and makes friends while the military attempts to track him down.

Photo courtesy TriStar Pictures/Photofest NYC, ©TriStar Pictures (Photographer: Bruce McBroom).
---
Industrial & Service
This category represents robots that are used in industrial, medical, military, and in-the-field applications. Previous inductees include: Unimate, SCARA, and the da Vinci Surgical System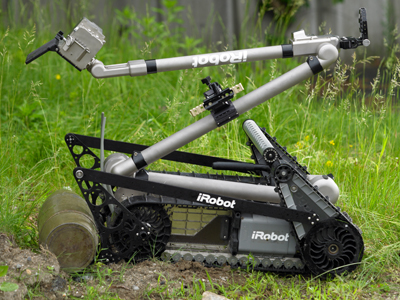 PackBot
Created by iRobot, PackBot is one of the most successful battle-tested robots in the world. It performs bomb disposal and other dangerous missions for troops and first responders. Over 4500 units are currently on station in Iraq and Afghanistan and it was one of the first robots to enter the damaged Fukushima nuclear plant after the 2011 tsunami.

Photo courtesy iRobot Corporation.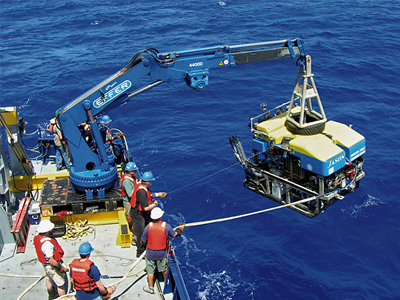 Jason
Jason is a remotely operated vehicle designed and built by the Woods Hole Oceanographic Institutes Deep Submergence Lab and allows scientists access to the seafloor without leaving the ship. Since 1988 the system has made hundreds of dives to hydrothermal vents, 1,600 year old shipwrecks, the German Battleship Bismarck, and military uses. Its prototype was used to explore the Titanic upon its discovery in 1986.
Photo by Lance Willis, © Woods Hole Oceanographic Institution.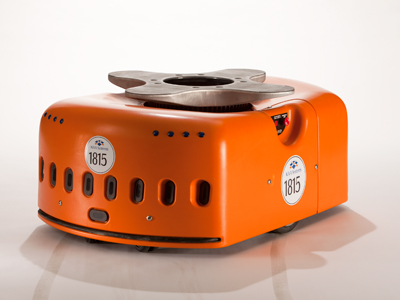 Kiva
The autonomous mobile robot is part of the Kiva Mobile-robotic Fulfillment System which enables extremely fast cycle times with reduced labor requirements, from receiving to picking to shipping in a warehouse setting. Today Kiva is widely recognized as THE solution for eCommerce fulfillment and item picking applications of all types.

Photo courtesy Kiva Systems.
---
Research
This category represents robots that are used primarily for the purpose of furthering our knowledge and understanding in the field of Robotics and other disciplines. Previous inductees include: Mars Pathfinder Soujourner Rover, Shakey, Asimo, NavLab 5, the Raibert Hopper, and the Mars Exploration Rovers Spirit and Opportunity.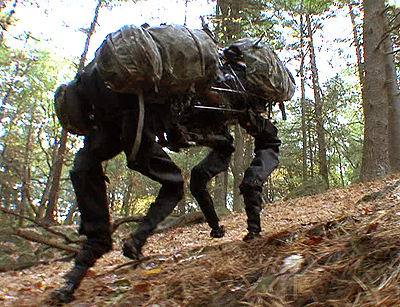 BigDog
This dynamically stable quadruped robot created in 2005 by Boston Dynamics is capable of traversing difficult terrain, running at 4mph, carrying 340lbs, and can climb a 35 degree incline. It was funded to research a robotic pack mule to accompany soldiers in terrain too tough for conventional vehicles.
Photo courtesy Defense Advanced Research Project Agency.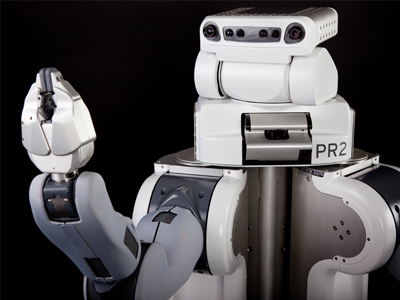 PR2
PR2 by Willow Garage is a robotics research and development platform that lets researchers innovate right out of the box. It uses an open platform so investigators can easily share work with colleagues in the research community. More powerful than a video or publication, others can easily reproduce results enabling true scientific validation.

Photo © Willow Grove, all rights reserved.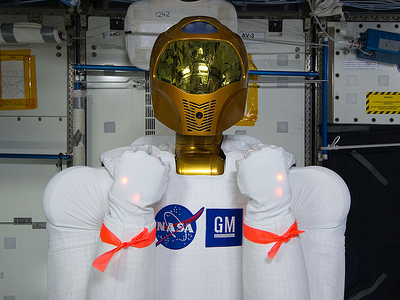 Robonaut
Robonaut is a dexterous humanoid robot built and designed at NASA Johnson Space Center in Houston, Texas. It was built to work alongside people to expand our ability for construction and discovery. Central to the robot is what is called dexterous manipulation that allows the robot dexterity that exceeds that of a suited astronaut.

Photo courtesy NASA Johnson Space Center.