AIBO | SCARA | David | Maria | Gort
---
AIBO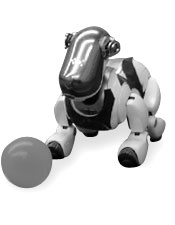 In Japanese, AIBO means "companion." In English, AIBO is an acronym for "Artificial Intelligence BOt". In any language, the Sony AIBO represents the most sophisticated product ever offered in the consumer robot marketplace.
Sony's AIBO began its commercial life as one of the first high-end robots targeted for the home. AIBO, destined to sell well in excess of 130,000 units worldwide during its seven- year product cycle, was intended to be a companion-slash-entertainment robot for both the consumer and the technophile.
AIBO represents a new class of robot--relatively cheap, highly compact, and very stable, with his four legged motion. AIBO can see, hear, and understand commands (showing true dog-like behavior, it is also programmed to occasionally ignore them). AIBO has the ability to learn, to adapt to its environment, and to express emotion. AIBO sees in color, hears in stereo, and feels objects with its feet. It has grown more sophisticated over the years as new features have been added.
AIBO is, in short, a very robust platform.
These features have made the AIBO extraordinarily attractive to students of computer science and robotics. In the tech sphere, the RoboCup competition has used AIBO since 1998. Dr. Manuela Veloso, professor of computer science at Carnegie Mellon University and a recognized leader in international RoboCup competition, praises the AIBO for its contributions to research in multirobot systems:
"Teams of AIBO soccer players have captured the hearts of researchers and spectators while they search for the ball, struggle to take possession of the ball, beautifully move, kick, and aim at the goal. They eventually score, dance with happiness, and receive roaring cheers of enthusiasm and praise.
The RoboCup Federation and Research Community are in debt to SONY for the development of these remarkable AIBO robots which researchers and students have used in research and development of four-legged robot soccer teams since 1998."
In the consumer arena, there are numerous internet "roboblogs" scripted independently by individual AIBOs as they wander around their premises, taking periodic pictures. Silly? Perhaps. Fun? Definitely! In short, AIBO is a "Swiss Army Knife" of robotic possibilities. Because of the inherent flexibility of its design, AIBO does many things well.
AIBO, every dog may have its day...but you have the Robot Hall of Fame. For your many unique assets which have created the sport of AIBO robot soccer...and made it possible for mere mortals to understand how robots communicate with each other in achieving their goals...we welcome you, AIBO, to the Robot Hall of Fame!